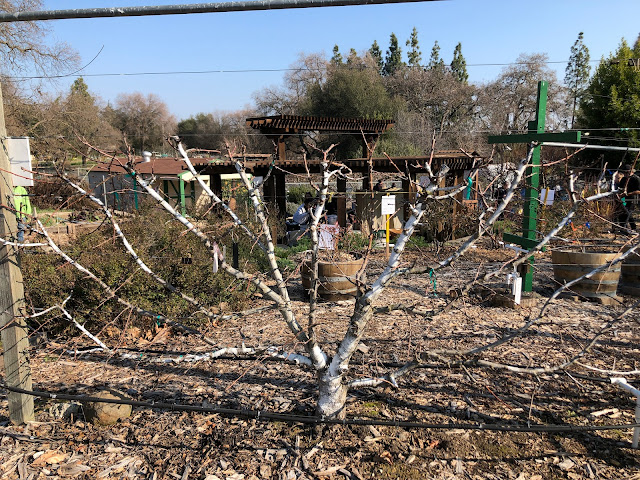 An espaliered fruit tree overlooks the Berry Project area, with the pond and the Master Gardener information area beyond, during a pre-pandemic winter Open Garden. (Photo: Kathy Morrison)
Three hours of Open Garden at the Fair Oaks Horticulture Center this Saturday isn't enough to plumb all the free knowledge available to home gardeners. But it's a start. And the weather will be clear and January-nice.
Here's how to make the most of the event, which runs from 9 a.m. to noon:
-- Decide which area you most want to visit, and head for that first. The Orchard will be busy all morning, so anyone with pruning questions will want to spend time there early. Learn how the trees are pruned to keep them a manageable size for harvesting.
Most of the fruit trees are off to the right past the Chuck Ingels Memorial Gate, but the citrus trees are past the Vegetable Garden, along the back fence, and the espaliered trees and a few others are between the Berry Garden and the Vineyard. The FOHC's other gardens are: Water Efficient Landscape (WEL), Herb Garden and Compost Area.
-- In the WEL, check for plants showing winter color. Some California natives do bloom in winter, adding interest to what can be a drab time of year.
-- Ask the Herb Garden team about propagating herbs. Many perennial herbs can be grown from cuttings or slips.
-- The Vegetable Garden will have winter and some early spring vegetables in the raised beds. See what's growing now, and ask what will be planted during the next month. (Then return for the Feb. 12 Open Garden and see how things have progressed!)
-- Pruning is also a winter activity in the Berry Garden and the Vineyard. Anyone who wants to grow blueberries, cane berries or grapes will do well to ask about tools and techniques.
-- Say hi to the worms in their new location! The vermiculture area has moved, along with the rest of   the Compost Project. Learn how easy it is to set up a worm box and harvest the best "garden gold."
-- Not sure where to take a gardening question? Bring a sample of the problem plant, if appropriate, and stop at the Ask a Master Gardener table, in the center of the FOHC. The master gardeners stationed there will have many resources at their fingertips to find the answer.
The 2022 Gardening Guide and Calendar also will be for sale during Open Garden, for just $10, including tax.
For general information on the Open Garden, including directions to the Fair Oaks Horticulture Center, visit this page.
-- Kathy Morrison