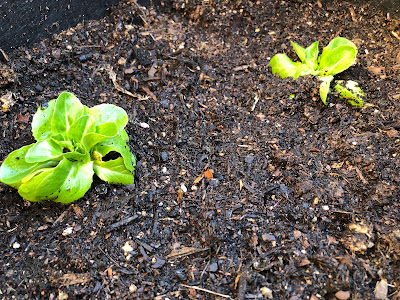 Lettuce is one of the easiest vegetables to save
seeds from. Learn how at a Zoom free workshop
on Feb. 5. (Photo: Kathy Morrison)
Have you ever "checked out" an heirloom watermelon? Or "deposited" some favorite beans? You can do both at a seed library.
Learn how seed libraries work – as well as the basics of starting one of your own – during a free Zoom workshop.
Offered by the UC Cooperative Extension Master Gardeners of Placer County, "Lettuce Unite!" is open to gardeners of all ages and locations. Set for 1 p.m. Saturday, Feb. 5, the one-hour session will focus on seed saving, an age-old method of preserving heirloom varieties of vegetables and flowers.
"What is a seed library? How do I 'borrow' seeds? How do I 'return' seeds? What do I do with those seeds?" say the master gardeners. "Learn all about what a seed library is, how to grow a summer garden, and a little about how to save seeds successfully."
Seed libraries are becoming increasingly popular among vegetable and flower gardeners, especially those interested in growing heirloom varieties. The concept is simple: During planting time, gardeners "borrow" the seed of their choice. Instead of harvesting all of a crop, gardeners allow some of the plants to form seed. The gardeners then save that mature seed and return some to the library.
Gardeners also may make contributions of seed they saved from other plants not originally grown from the library's stock. Lettuce – as the workshop's name implies – ranks among the easiest seed to save. Another theme of this gardening pastime: Seed saving brings gardeners together.
This workshop is great for school or community garden groups. Gardeners also can learn tips on how to save seed for their own use.
To participate, click on https://pcmg.ucanr.org/?calitem=521353&g=123640 and follow the Zoom link. Passcode: seed.
"Lettuce Unite!" is part of a late winter-early spring series of Zoom sessions hosted by the Placer County master gardeners. Upcoming online workshops include:
Feb. 12: "Citrus Tree Care in the Foothills."
Feb. 26: "Totally Tomatoes."
March 12: "Dealing with Deer."
March 26: "Planning Your Vegetable Garden."
Miss a workshop? Catch it later on the Placer County master gardeners home page.
Learn more: https://pcmg.ucanr.org/