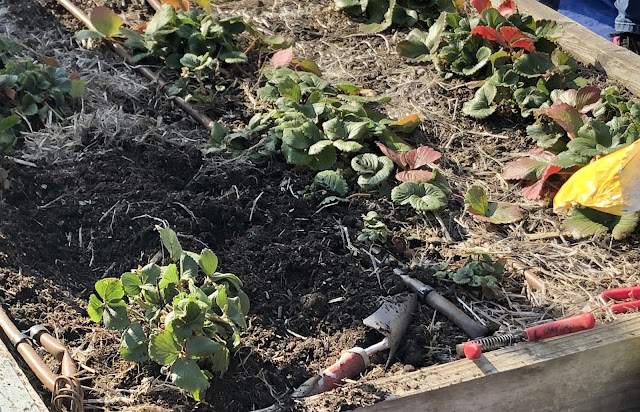 Not only is it the right time to plant new roots of artichoke, horseradish, strawberry and rhubarb, it's also perfect to clean up and replant older strawberry plants, as above. (Photo: Kathy Morrison)
How dry we are! Our rainless weather pattern continues.
According to the National Weather Service, Sacramento has a 0% chance of rain between now and next weekend. January, usually one of our wettest months, will end with only 0.05 inches of precipitation – 3.6 inches below normal.
February also is tracking on the dry side. A "normal" February in Sacramento averages nearly 3.6 inches, too.
Right now, the only moisture in the forecast is patchy morning ground fog. That fog will keep temperatures cool, with afternoon highs around 60 degrees and overnight lows in the high 30s.
While we sure could use the rain, make good use of this pleasant winter weather:
* Finish winter pruning. That includes roses and most dormant trees or shrubs.
* This is the last chance to spray fruit trees before they bloom. Treat peach and nectarine trees with copper-based fungicide. Spray apricot trees at bud swell to prevent brown rot. Apply horticultural oil to control scale, mites and aphids on fruit trees soon after a rain. But remember: Oils need at least 24 hours to dry to be effective. Don't spray during foggy weather.
* Feed spring-blooming shrubs and fall-planted perennials with slow-release fertilizer.
* Fertilize strawberries and asparagus.
* Indoors, start peppers, tomatoes and eggplant from seed.
* Plant bare-root roses, berries and fruit trees.
* Transplant or direct-seed several flowers, including snapdragon, candytuft, lilies, astilbe, larkspur, Shasta and painted daisies, stocks, bleeding heart and coral bells.
* In the vegetable garden, plant Jerusalem artichoke tubers plus artichoke, horseradish, strawberry and rhubarb roots.
* Transplant cabbage, broccoli, kale and Brussels sprouts as well as lettuce (both loose leaf and head).
* Plant seed potatoes and onion sets (small bulbs).
* From seed, plant beets, chard, lettuce, mustard, peas, radishes and turnips.