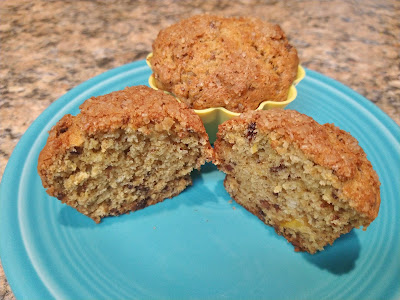 These little muffins are easy to make and smell
very zesty. (Photos: Debbie Arrington)
Grapefruit takes up to a year to mature on the tree. That makes every grapefruit on my little super-dwarf grapefruit tree precious – I've been watching that fruit develop for months!
The variety is Cocktail, a cross between a mandarin and a pomelo that's also nicknamed Mandelo. The zest is never bitter, which makes it ideal for this muffin recipe.
This easy recipe uses the zest, juice and fruit of a grapefruit. The result smells just as zesty as it tastes, like a bite of winter sunshine. If you love grapefruit, you'll enjoy these not-too-sweet breakfast treats.
Grapefruit-raisin muffins
Makes 12 muffins
Ingredients:
1 grapefruit
4 tablespoons butter (½ stick), at room temperature
½ cup raisins
1 large egg
1-1/2 cups all-purpose flour
½ cup sugar
1 teaspoon baking powder
1 teaspoon baking soda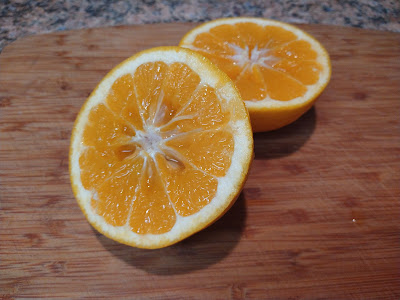 ½ teaspoon salt
Butter or shortening to grease muffin tin or silicon baking cups
Demerara or white sugar for dusting
Instructions:
Preheat oven to 400 degrees F.
With a zester, remove the zest from about one quarter of the grapefruit. Scrape off any white pith; set zest aside. Juice one half of the grapefruit. Roughly chop the fruit of the other half.
In a food processor, place the room-temperature butter, raisins and zest. Process until raisins are chopped. Add the grapefruit, juice and egg; process until blended.
In a large bowl, sift together flour, sugar, baking power, baking soda and salt. Make a well in the center of the dry ingredients. Pour in butter-raisin-grapefruit mix. With a wooden spoon, stir until dry ingredients are just moistened. Do not over-mix.
Prepare muffin tin. Grease cups or use silicone liners. Divide the batter evenly among the 12 cups. Sprinkle tops with Demerara or white sugar.
Bake at 400 degrees for 20 minutes or until tops are golden and a toothpick inserted in the center of a muffin comes out clean. Cool slightly before removing from the tin.
Serve warm.