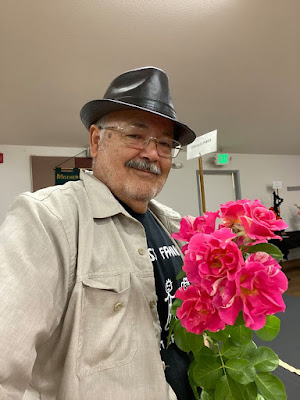 Baldo Villegas will be among the rose
experts presenting a free series of
webinars in February. (Photo courtesy
Baldo Villegas)
Here's your opportunity to sit in on a series of rosy master classes and soak up knowledge from some of the nation's leading rose experts – including Sacramento's own Baldo Villegas.
The American Rose Society is opening its educational webinars, designed to train Consulting Rosarians, to all interested rose growers and gardening enthusiasts, with four classes scheduled for February.
Consulting Rosarians are the master gardeners of the rose world. Gardeners who complete the coursework and pass an extensive exam are certified by the ARS as Consulting Rosarians. But to keep that certification, CRs need to regularly refresh their skills and stay up with new research via continuing education and seminars.
Due to Covid restrictions, in-person workshops have been harder to host, so webinars have filled the gap. The online nature of these webinars allows the ARS to open the virtual doors and let all interested gardeners share in these truly informative classes.
Anita and Mike Eckley, the ARS National Consulting Rosarian co-chairs, recruited experts from across the country to host these sessions. All scheduled for Saturdays in February; each workshop starts at 11 a.m. PST.
The workshops are free but each requires advance registration. Find the links here:
https://bit.ly/3KYQt88
. (When signing up, your District is likely NCNH, Northern California, Nevada and Hawaii.)
Other than Consulting Rosarian candidates (who must attend all four), participants can pick and choose which sessions to attend:
Saturday, Feb. 5: "Soil and Water," with Pennsylvania rose expert Bill Kozemchak. In addition, ARS President Diane Sommers will discuss the CR program.
Feb. 12: "Fertilizer" with Brenna Bosch, a New Jersey rose expert.
Feb. 19: "Insects and Disease," presented by "Sacramento's Bug Man," Baldo Villegas, a retired state entomologist as well as master rosarian.
Feb. 26: "Chemical Safety" with Don Swanson, a Nebraska rose expert.
All of these experts are rose-growing all-stars. BothVillegas and Bosch have rose varieties named in their honor.
For more information on roses and Consulting Rosarians, go to
www.rose.org
.