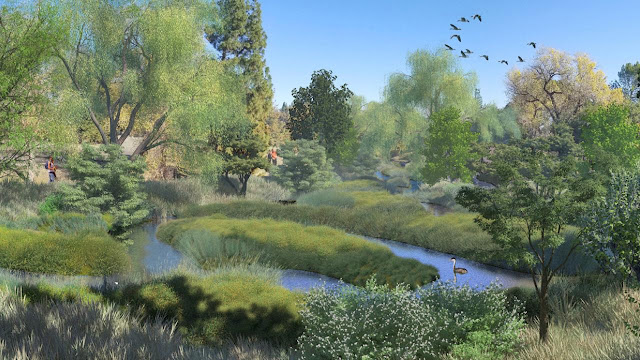 This artist's rendering shows what the Arboretum Waterway project will look like when completed. (Courtesy UC Davis Arboretum)
A long-awaited transformation at UC Davis is a step closer to reality – the completion of the Arboretum Waterway habitat project.
The university has received a $5.4 million grant from the California Natural Resources Agency to finish the "Arboretum Waterway Flood Protection and Habitat Enhancement" project. The public is invited to a virtual community meeting via Zoom to discuss the project at 7 p.m Thursday, Feb. 24. Advance registration for the meeting is required; sign up here: https://bit.ly/3uBcST1
Phase 1 of the project was completed in 2018. That phase engineered water flow and replanted native vegetation near the arboretum's Wyatt Deck, through the Redwood Grove to the eastern end of the Arboretum Waterway.
Four years later, the arboretum can now tackle the remaining three phases of the waterway's makeover, starting at Lake Spafford (near Mrak Hall) and extending west to the campus equestrian center. Besides the new grant, the university will contribute $2.5 million in deferred maintenance funds to the waterway project.
"We are ecstatic about this project," said Kathleen Socolofsky, assistant vice chancellor and director of the Arboretum and Public Garden, in an official release. "It has all come together thanks to many thoughtful years of planning and collaboration with faculty and other campus partners. The proof of concept for our overall plan is flourishing and now we can finish the transformation."
Also known as Putah Creek (although it doesn't actually connect to that creek), the Arboretum Waterway forms the backbone of the arboretum as well as serves as part of the campus flood control system.
Expected to be completed in 2024, the remaining phases will remove concrete walls that now line the waterway and replace them with gently sloped earthen banks studded with trees, shrubs and native plants. As a home to birds and other wildlife, the waterway will be reshaped with islands in the stream, narrows to speed water flow and pockets of marshlike wetlands.
In addition to helping wildlife, the project will also greatly benefit students – especially those studying wetland habitat restoration – by providing hands-on job training. Working with the arboretum in the restoration project will be the California Conservation Corps and the Center for Land-Based Learning's SLEWS (Student and Landowner Education and Watershed Stewardship) program.
Learn more at https://arboretum.ucdavis.edu .