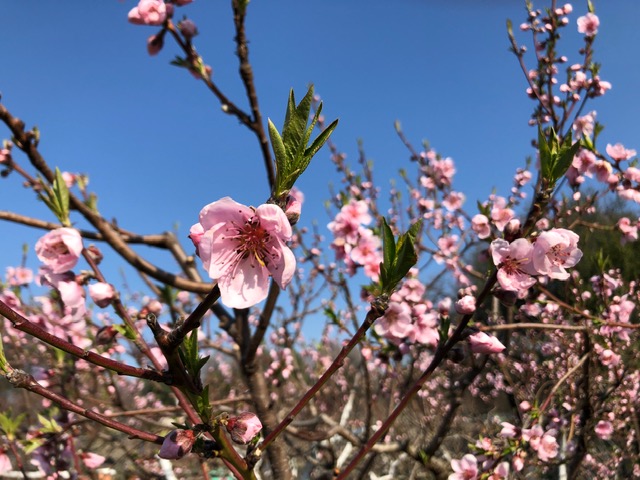 If the Eva's Pride peach tree is blooming, can spring be far off? The Fair Oaks Horticulture
Center orchard trees are just beginning to show off their blossoms. (Photos: Kathy Morrison)
We all want rain, but might as well enjoy the sunny days we have, right? No better opportunity arrives than on Saturday, Feb. 12, when the Sacramento County master gardeners present their February Open Garden.
Open Garden Day gives visitors access to the entire Fair Oaks Horticulture Center, which is just south of Fair Oaks Park at 11549 Fair Oaks Blvd. The FOHC is the master gardeners' demonstration garden, but usually just the front portion -- the Water Efficient Landscape, or WEL -- is open daily to the public.
But all the gates will be open Saturday, from 9 a.m. to noon, and visitors will be able to see how the warm late-winter weather is affecting the various growing areas. Master gardeners will staff each area and answer gardening questions.
In the orchard,  the Eva's Pride peach tree leads the way in blooming. Expect to see those beautiful pink blossoms abuzz with bees.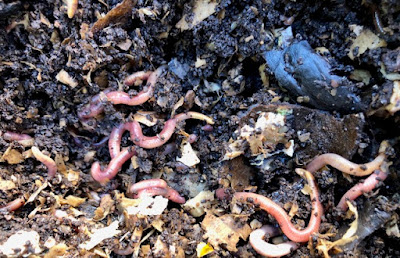 Visit the worms at the compost area of the Fair Oaks Horticulture
Center.
In the compost area, the master gardeners can tell all about worm composting while they're harvesting castings from the big bin full of red wigglers.
Other areas to visit include the berry garden -- where the blueberries have just been pruned -- the vegetable area, the herb garden and the vineyard.
For questions that don't quite fit into those areas, stop at the Ask a Master Gardener table, where they have all sorts of resources for backyard gardeners.
The 2022 Garden Guide will be for sale, $10 for invaluable growing information and a great calendar.
For general information on the Fair Oaks Horticulture Center, go to sacmg.ucanr.edu/?calitem=516810
Can't make this event? The next Open Garden will be March 12.
-- Kathy Morrison