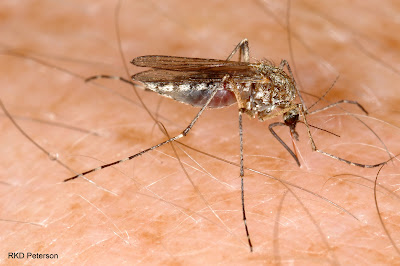 This is an inland floodwater mosquito ( Aedes vexans ), among the
"first biter" varieties. (Photo courtesy Montana State University)
People love temperatures in the 70s – and so do mosquitoes.
Our current warm spell has brought out early-season mosquitoes in force, and they're hungry.
"This is a typical trend that we see every year in February when we get a few days of sunny and warm weather," said Gary Goodman, manager of the Sacramento-Yolo Mosquito and Vector Control District, in a district release Thursday. "These mosquitoes are ones that had been hibernating during the past few months. The warm temperatures have brought them out of resting and they are aggressively biting."
According to the district, these mosquitoes are common in spring and are considered more of a seasonal nuisance than deadly threat. They're not the species that carries West Nile Virus or other diseases. They just like to bite.
Sacramento is home to more than 50 mosquito species, according to the UC integrated pest management experts. Among the most common "first biters" is the inland floodwater mosquito (
Aedes vexans
). It doesn't need a flood to hatch; just water and warmth. Its species name comes from the Latin word for "annoy."
District crews have been inspecting and treating potential trouble spots where mosquitoes breed, noted the district.

This week, service requests shot up along with the heat. Those requests "increased significantly" when temperatures hit the high 60s and low 70s, says the district.

"People are enjoying the outdoors and they are noticing the mosquitoes more," added Goodman.

As our warming trend continues, the district asked residents to keep an eye out for places where mosquitoes can breed. Drain any stagnant water that may have collected in flowerpots, saucers, buckets, bird baths, wheelbarrows or other containers. Mosquitoes can breed in as little as a few tablespoons of water.
Stopping mosquito multiplication now will help control their population later. Meanwhile, avoid getting bit. Wear long sleeves and pants while outdoors, especially in early morning or late afternoon when mosquitoes are most active. Wear mosquito repellent. The district recommends products that contain DEET, Picaridin or oil of lemon eucalyptus.
Are you being bothered by lots of mosquitoes? To report a mosquito breeding source or request a home inspection, call 1-800-429-1022.
Details and more tips:
www.FIGHTtheBITE.net
.