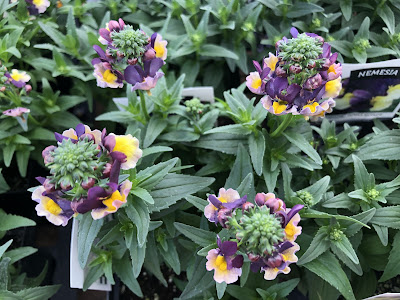 Nemesia make good border plants. They will bloom all spring
but will appreciate a little afternoon shade come summer.
(Photo: Kathy Morrison)
Are we finally going to get some rain?
After a week of near-record warmth, change is in the air, says the National Weather Service. Storm clouds are actually heading our way with a slight chance of drizzle on Monday or Tuesday.
But real rain? We're still going to have to wait a little longer, predicts the weather service. Instead, these clouds are headed for the Sierra, where they may drop 1 or 2 inches of snow in the higher elevations. At least that helps our snow pack.
Sacramento last saw measurable precipitation (0.05 inches) on Jan. 7. We're edging closer to a record winter dry streak – 44 days, set in 1976. If Monday's clouds pass us by, Sacramento could match that record next Sunday, Feb. 20.
Following this weak storm system will be gusty winds on Tuesday and Wednesday, says the weather service. Those winds will drop daytime temperatures back into the low 60s, but only for a day or two. More spring-like afternoons are on their way.
Make the most of this good gardening weather. (But hold off on planting tomatoes; soil is still too cold.)
* This is the last chance to spray fruit trees with copper fungicide to control leaf curl before they bloom. If the buds have already started opening, you're too late.
* Feed spring-blooming shrubs and fall-planted perennials with slow-release fertilizer. Feed mature trees and shrubs after spring growth starts. Wait on feeding camellias until after they bloom.
* Remove aphids from blooming bulbs with a strong spray of water or insecticidal soap.
* Fertilize strawberries and asparagus.
* Transplant or direct-seed several flowers, including snapdragon, candytuft, lilies, astilbe, larkspur, Shasta and painted daisies, stocks, bleeding heart and coral bells.
* In the vegetable garden, plant Jerusalem artichoke tubers, and strawberry and rhubarb roots.
* Transplant cabbage, broccoli, kale and lettuce (both loose leaf and head).
* Indoors, start peppers, tomatoes and eggplant from seed.
* Plant potatoes from tubers and onions from sets (small bulbs). The onions will sprout quickly and can be used as green onions in March.
* From seed, plant beets, chard, lettuce, mustard, peas, radishes and turnips.
* Annuals are showing up in nurseries, but wait until the weather warms up a bit before planting. Instead, set out flowering perennials such as columbine and delphinium.
* Plant summer-flowering bulbs including cannas, calla lilies and gladiolus.