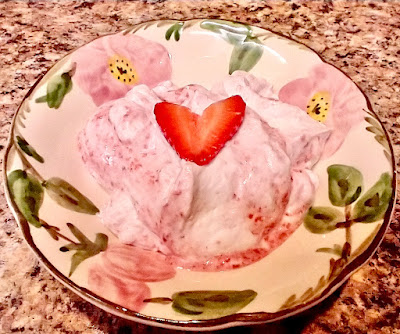 Strawberry fool is a light, easy dessert for
Valentine's Day or any time. (Photos: Debbie
Arrington)
What could be better than berries and cream? Whipping them together into a light-as-air dessert.
Fresh strawberry fool is an early spring take on an English classic. This version is a variation of Nicole Routhier's excellent fool recipe in her classic "Fruit Cookbook" (Workman Publishing, 1996).
Fools (as in this dessert) have been around for centuries. They're a no-cook eggless mousse that can be made with a wide range of soft fruit. (Routhier's fool recipe features super-ripe apricots.)
According to Routhier, "fool" came from the French word foulé, meaning "crushed" or "pressed." In this recipe, the strawberries are pureed in a food processor, then the pulp is pushed through a fine sieve to remove seeds.
Only partly fold the fruit puree into the whipped cream, so the fool has stripes of color. If fully blended, the whipped cream turns all pink – still pretty, but not nearly as interesting. With its ribbons of strawberries, this creamy dessert also can be spooned into a tall, clear parfait glass – an elegant fool for special occasions.
Fresh strawberry fool
Makes 6 servings
Ingredients:
2 cups fresh strawberries, hulled
1/2 cup confectioners' sugar*
1 tablespoon lemon juice
2 tablespoons Cointreau (optional)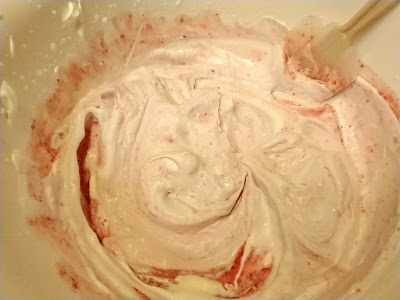 Leave stripes of color when blending in the strawberries.
1-3/4 cups heavy whipping cream
2 tablespoons sugar
1 teaspoon vanilla extract

Instructions:
Chill beaters and bowl.
In a food processor, puree strawberries. Push strawberry puree through a fine sieve to remove seeds. Add confectioners' sugar, lemon juice and Cointreau (optional). Set aside.
In the chilled bowl with chilled beaters, whip the cream until soft peaks form. Add sugar, whip to blend. Add vanilla. (Be careful not to overbeat or the cream will become like butter.)
With a rubber spatula, partly fold strawberry puree into the whipped cream, leaving stripes of color. Spoon cream-fruit mixture into compote dishes or parfait glasses. Cover and chill for several hours.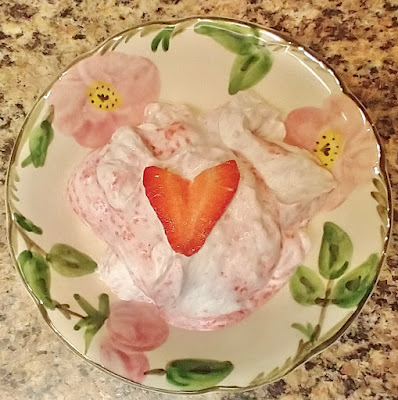 Now that's a sweet Valentine's Day offering.
Garnish with strawberries if desired just before serving.
* Confectioners' sugar contains cornstarch. May substitute with ½ cup powdered sugar and 1 teaspoon cornstarch.