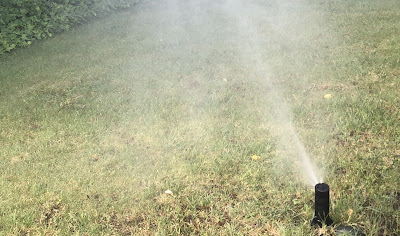 Water use, especially for lawns and landscaping,
is just one angle for public-service videos. Student
filmmakers are eligible to enter their 30-second
spots in the new Regional Water Authority contest.
(Photo: Kathy Morrison)
"When in drought …," what do you do?
That's the question posed to young filmmakers by the Regional Water Authority for its "Water Spots" video contest.
Sacramento-area middle and high school students are eligible to enter this contest, which offers a $250 cash prize. The winning video also is eligible to run in a local movie theater this summer as part of local water providers' awareness campaigns.
Students are challenged to create a 30-second public-service video that inspires the public to use water efficiently, says the RWA, the umbrella organization for local water providers in Sacramento, Placer, El Dorado and Yolo counties. This year's theme: "When in Drought …"
And we are still in severe drought. According to Drought.gov (the website of the National Integrated Drought Information System), two-thirds of California is considered under "severe drought" conditions including all of the Central Valley.
Deadline for video submission is 11:59 p.m. March 11. Entrants will be screened by a panel of judges including: Monica Woods, chief meteorologist at ABC10; Kathleen Dodge, executive director of the El Dorado Lake Tahoe Film & Media Office; and Lisa Cuellar, program manager at the California Water Efficiency Partnership. Finalists will be posted online for a public vote.
Find all of the contest details at: https://bewatersmart.info/waterspots/ .