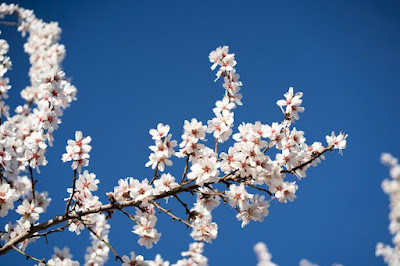 Almond blossoms and the crop itself are celebrated
during the Capay Valley Almond Festival this weekend.
(Photos courtesy Capay Valley Almond Festival)
It's time to get out and enjoy the almond blossoms (if they're still there).
This weekend marks the 107th annual Capay Valley Almond Festival, a five-town salute to this major California crop.
After canceling the festival in 2021 due to Covid restrictions, the small cities of Esparto, Capay, Brooks, Guinda and Rumsey will again host all things almond with special events Saturday and Sunday, Feb. 26 and 27. Held on the last weekend in February, the festival showcases the beauty of the almond groves in the Capay Valley while saluting this signature crop.
Started in 1915, the almond festival originally was held in October as a harvest celebration. In 1964, the then-new Esparto Regional Chamber of Commerce breathed new life into the almond fest and switched it to early spring when the blossoms are in bloom.
Will there be flowers? Unseasonably warm weather in early February brought out the blossoms very early. Then, extremely cold overnight temperatures this past week forced many almond trees to drop their flowers prematurely. Nonetheless, there still will be trees in bloom along the Capay Valley almond trail and lots of almonds (from the 2021 crop) for festival weekend.
Each town will have something different going. For example, Esparto will host music, food trucks, vendor booths and an almond bake-off Saturday. On Sunday, Esparto festivities start with a breakfast at 8 a.m. and continue all day with music, food trucks, vendor booths, carnival rides and more (including appearances by the 2022 Almond Queen and her court).
Some Capay Valley landmarks will host their own almond-themed events. Seka Hills Olive Mill in Brooks will host Almond Festival events from 10 a.m. to 3 p.m. Sunday.
Admission to most events is free. For a schedule of what's going on when and where, check out www.espartoregionalchamber.com/almond-festival-capay-valley-cache-creek-california and www.facebook.com/capayvalleyalmondfestival .