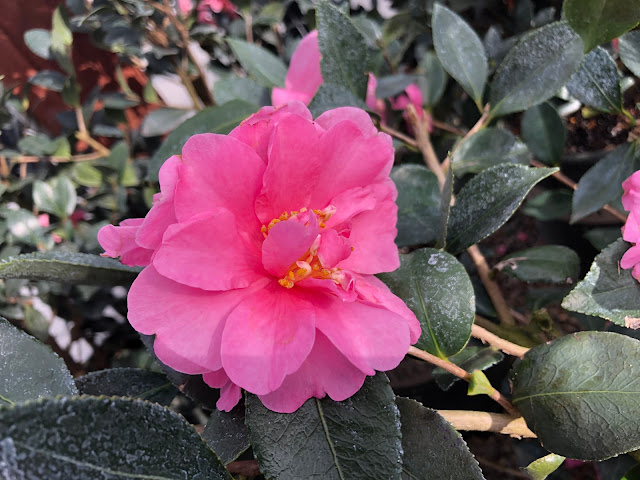 Fertilize camellias after they finish blooming. This is Camellia sasanqua 'Showa-No-Sakae.' (Photo: Kathy Morrison)
Will March bring us a drought-busting miracle?
Sacramento's record rainless streak continues. Although thunderstorms this past week dropped a few sprinkles, it was not enough to be "measurable precipitation" on Downtown Sacramento's official rain meter. We haven't had "real" rain since Jan. 7 and that was merely a drizzle.
Normally, January and February combine for about 7.2 inches of rain. So far in 2022, we've had 0.05 inches.
According to the National Weather Service, our dry spell may finally end this week – as a new month begins. Wednesday evening has a 30% chance of showers.
Otherwise, the forecast for the week ahead is mostly sunny, with a return to the low 70s by Monday. Enjoy this good gardening weather and get to work!
* Deep water fast-growing shrubs and perennials. Camellias could use a drink, too.
* Fertilize roses, annual flowers and berries as spring growth begins to appear.
* If aphids are attracted to new growth, knock them off with a strong spray of water or insecticidal soap.
* Pull weeds now! Don't let them get started. Take a hoe and whack them as soon as they sprout.
* Start preparing summer vegetable beds. Spade in compost and other amendments.
* Prune and fertilize spring-flowering shrubs after bloom.
*Feed camellias at the end of their bloom cycle. Pick up browned and fallen flowers to help corral blossom blight.
* Cut back and fertilize perennial herbs to encourage new growth.
* In the vegetable garden, transplant lettuce and cole family plants, such as cabbage, broccoli, collards and kale.
* Seed chard and beets directly into the ground. (Germination tip: Soak the beet seeds first!)
* Before the mercury starts inching upward, this is your last chance to plant such annuals as pansies, violas and primroses.
* Plant summer bulbs, including gladiolus, tuberous begonias and callas. Also plant dahlia tubers.
* Shop for perennials. Many varieties are available in local nurseries and at plant events. They can be transplanted now while the weather remains relatively cool.