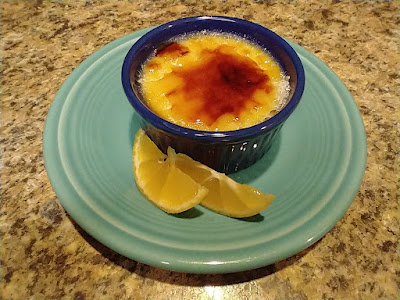 Meyer lemon crème brûlée showcases that precious
citrus crop. (Photos: Debbie Arrington)
With their smooth skin and tangy flavor, Meyer lemons are always a winter favorite – full of lemon brightness without the bitterness.
Every lemon off my little Meyer "bush" is precious – especially this winter. My total Meyer lemon crop: One.
That's not unusual; Meyer lemon trees are notorious for alternate-year-bearing habits, and my super-dwarf tree is barely 4 feet tall.
But that one lemon was Meyer perfection; beautifully smooth, fragrant and very juicy.
To showcase its flavor, I made Meyer lemon crème brûlée as good as any restaurant version.
Crème brûlée is why I have a kitchen torch; it makes the creation of that hard melted sugar shell simple and fun. The little blow torch takes only seconds to turn the granulated sugar golden brown and bubbly.
A broiler works, too, but that sugar topping (after taking what feels like an eternity -- five minutes -- to start melting) can go from golden to scorched black almost instantaneously.
This same recipe also doubles as Meyer lemon custard, a wonderful dessert in its own right. (No torch or broiler necessary.)
Use 6-ounce custard cups or ramekins for two servings or shallow 3-ounce ramekins for four servings.
Start with a juicy Meyer lemon.

Meyer lemon custard and crème brûlée
Makes 2 to 4 servings
Ingredients:
¼ cup fresh Meyer lemon juice
2 tablespoons Meyer lemon zest, grated
¾ cup heavy cream
¼ cup sugar
3 large egg yolks
½ teaspoon vanilla
Boiling water
For crème brûlée topping:
2 to 4 tablespoons sugar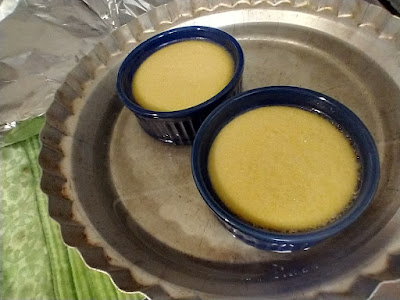 The custards bake in a water bath.




Instructions:
Preheat oven to 300 degrees F.
In a heavy saucepan, combine lemon juice, zest and ¼ cup sugar. Add cream. Over medium heat, warm lemon-cream mixture, stirring often, until little bubbles appear around edges of pan; about 2 minutes. Remove from heat and set aside.
In a bowl, beat egg yolks and vanilla together until light and smooth. Gradually, add hot cream mixture to egg yolks, beating continuously until well blended. Strain mixture through a fine sieve into a large measuring cup (you'll have about 11 to 12 ounces of custard mixture). Pour mixture into ramekins or custard cups, dividing evenly.
Boil water. Arrange ramekins or custard cups in a baking pan and place on the center shelf of the preheated 300-degree oven. Gently fill pan with boiling water around the cups and ramekins, reaching halfway up the sides. Loosely cover with foil.
Bake until custard is just set and still jiggly; 25 minutes for 3-ounce ramekins, 35-40 minutes for 6-ounce cups.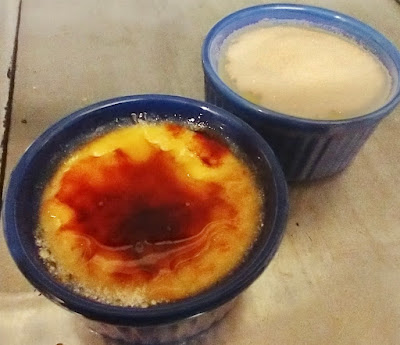 Before and after the sugar on top is melted with a kitchen torch.


Remove custards from oven and water bath. Let cool on a wire rack for 1 hour, then transfer to refrigerator. Chill for 2 to 3 hours or overnight.
Note: Meyer lemon custard may be served plain or with whipped cream and/or berries. Or topped with crème brûlée sugar crust.
For crème brûlée topping: Sprinkle 1 tablespoon of sugar evenly over the top of each custard. With a kitchen torch, melt sugar. Move the flame continuously in a circular motion until the sugar becomes golden brown and bubbly, about 10 to 15 seconds. Serve immediately.
Broiler method: Put broiler rack or oven shelf at highest position. Do NOT preheat. Place sugar-topped custards in cold broiler or oven, then broil at 500 degrees F., watching closely. (Topping can scorch quickly once melted.) Switch custards front to back to melt topping evenly. Remove when topping is golden brown and bubbly, about 5 minutes. Serve immediately.