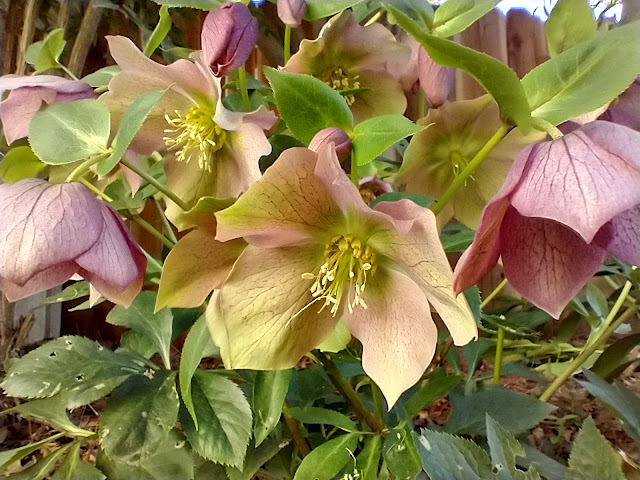 Hellebores offer long-lasting blooms in dry shade. (Photo: Debbie Arrington)
This "rose" blooms where (and when) others won't. It flowers in dry shade – in late winter.
On March 2, the first day of Lent, my Lenten roses were in full flower. In shades from near black to creamy pale green, those interesting blooms actually arrived way early; they've been opening for most of February. But they're so long lasting, they'll still be around for Easter.
"Lenten rose" is the nickname for hellebore, a wonderful shade-loving perennial. Despite the nickname, they're only a distant relative of roses. They're actually close cousins to ranunculus.
Native to Southeastern Europe, hellebores are well adapted to our Mediterranean climate. Once established, they can get by with only twice-monthly irrigation, which makes them a great pick for water-wise landscapes.
Naturally compact, they love dry filtered shade, such as under trees. Hellebores can tolerate some sun, too; just not full Sacramento summer sun.
Their large, leathery leaves stay close to the ground, usually under 1 foot tall. In winter, they send up flower stalks with large bell-like blooms.
These plants are extremely low maintenance. Unlike roses, Lenten roses need no pruning. Just snip off any unattractive leaves in summer.
Another plus for hellebores: Deer don't like them. Hellebores also can tolerate colder temperatures, making them ideal for foothill gardens.
New hybrids have expanded the range of hellebore colors and petal patterns, from pure white to darkest purple black. Most varieties fade to shades of pink or purple.
Two hybrid hellebores have been featured by the UC Davis Arboretum as part of its water-wise plant collections: Pink Frost ( Helleborus X ballardiae 'Coseh 710' ) and Mahogany Snow ( Helleborus X ballardiae 'Coseh 930' ).
Pink Frost has striking cream-colored flowers with pretty pink edges that last for weeks in the garden. Mahogany Snow is similar with creamy petals reversed with dark pink. Those varieties and others can be seen in the arboretum's Terrace Garden and Ruth Risdon Storer Garden.
Corsican hellebores, which have bright green flowers, are featured in the Arboretum's White Flower Garden near the gazebo.
See them in bloom now. For more information, visit the arboretum's website: https://arboretum.ucdavis.edu .