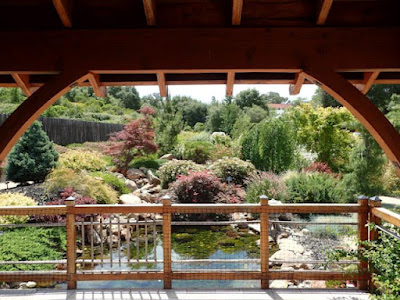 The Japanese garden is one of the showpieces
of the Sherwood Demonstration Garden in
Placerville. (Photo courtesy El Dorado County
master gardeners)
Now that it is March, the El Dorado County master gardeners' beautiful demonstration garden in Placerville has shifted into longer public hours and resumed docent-led tours.
The Sherwood Demonstration Garden is located at the El Dorado Center of Folsom Lake College, 6699 Campus Drive. The garden now is open 9 a.m. to noon every Friday and Saturday through November, unless there is a 60 percent or more chance of rain forecast.  (Other closure alerts, more appropriate for summer: A forecast of 95 degrees or more from 9 a.m. to noon, or if air quality level hits 150.)
Master-gardener-led tours are offered on the first Saturday of the month, including this Saturday, March 5. The tours are free, starting promptly at 9 a.m. If no one appears to take the tour, the guide will leave at 9:15 a.m. Group tours can be arranged by emailing mgeldorado@ucanr.edu or calling (530) 621-5512.
What is there to see at Sherwood? So many plants: 16 garden areas, from rock garden to perennials garden, as well as a native plants garden, shade garden, Japanese garden and a children's garden. This link leads to an artistic map of the garden.
Note: No dogs are allowed in the garden. Daily parking passes on the college property are $2. Directions are here .
(Bonus for visitors this Saturday: The Community Observatory also at the El Dorado Center will be open for solar viewing from 10 a.m. to 11:59 a.m. Find out more information here .)
The El Dorado master gardeners also offer free public education classes. An in-person class on "Firewise Landscaping" will be taught by Alice Cantelow on Wednesday, March 9, from 9 a.m. to noon at the Cameron Park Community Center,  2502 Country Club Drive, Cameron Park. Call or email the contacts listed above to register.
-- Kathy Morrison