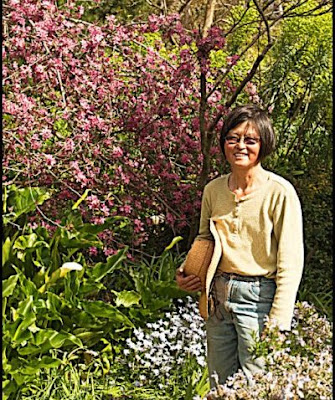 Daisy Mah will be the opening speaker
at the Gardener's Market on Saturday.
(Photo courtesy Sacramento Perennial
Plant Club)
Need some springtime inspiration? Here's a great opportunity to shop for a wide range of unusual plants and interesting garden stuff – plus hear two wonderful speakers.
On Saturday, March 12, the Sacramento Perennial Plant Club hosts its 17th annual Gardener's Market at Shepard Garden and Arts Center in McKinley Park.
From 9 a.m. to 3 p.m., the center and its patio will be filled with vendors offering plants, garden art, books, tools and more. Admission and parking are free.
Always a highlight of this event are the speakers. At 10 a.m., hear longtime perennials expert Daisy Mah share her experiences and tips for "Gardening for the Birds and the Bugs." Now retired but still an active volunteer, Mah is best known for the landmark perennials garden she created in Land Park while she was a member of Sacramento's parks department. Her own Sacramento backyard is a wonderland of unusual plants – and filled with wildlife.
At noon, hear author and podcaster Jennifer Jewell discuss "Knowing Your Place: Under Western Skies—Lessons from Land-Based Gardens of the West." Based in Butte County, Jewell has fans nationwide with her public radio program and podcast, "Cultivating Place." Author of "The Earth in Her Hands," she also was the curator of the native plant garden at Chico State.
(Jewell also will be offering copies of her new book, "Under Western Skies," at a 20% discount.)
Since this is the perennial club, expect to find hundreds of perennials including water-wise Mediterranean natives and old-time favorites – just in time for spring planting.
Bring your own tools and scissors for sharpening, too. Another service: Drilling holes in the bottom of pots or other possible plant containers. Both sharpening and drilling will be available for a small donation.
Several vendors representing greater Sacramento's garden community will be featured. The RSVP list includes: All Things Wild, Arti.fizer Yard Art, Carman's Nursery, Friends of San Juan de Oriente, Glen Rowley birdhouses, Golden Pond, Judy's Plate Flowers, Lin Wood Design, Lori Ann Asmus tropical plants, Mad Man Bamboo, Morningsun Herb Farm, Pam's Porch, Second Chance Creations, She Sews-He Saws, Succulent Sirens, The Ruralist and The OG cactus and succulents.
Among the highlighted new vendors is BirdfeedersRUS/Yankee Glass Art of Folsom. Rated "Best finch feeder" by Birds & Blooms, these beautiful birdfeeders are made from mason jars and recycled antique glassware. Harold Malmquist creates each birdfeeder by hand from glassware he's collected from throughout the western states. Besides feeders for finches and larger songbirds, Malmquist also makes hummingbird feeders capped by antique glass.
Shepard Center is located at 3330 McKinley Blvd., Sacramento. Street and lot parking will be available.
For details: https://sacramentoperennialplantclub.org/ .