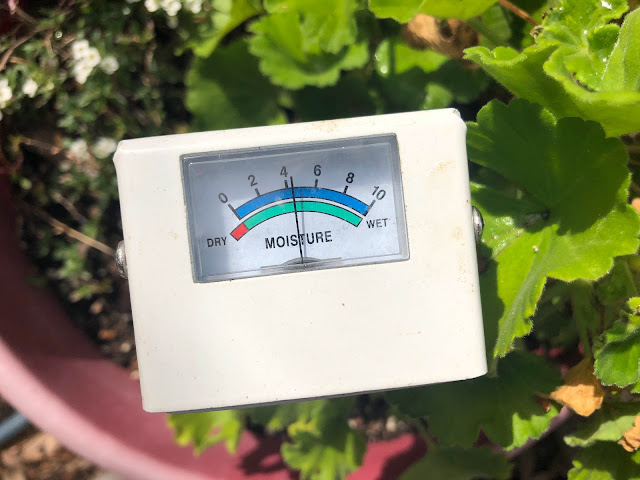 Well, it's better than "dry" but Tuesday morning's rain isn't going to solve all the
garden irrigation needs. Pots especially, as the meter above shows, didn't get
thoroughly soaked. (Photo: Kathy Morrison)
During the last week of winter, Sacramento finally snapped its dry streak. At long last, we got measurable rain.
"Drought buster? Hardly, but we did finally snap the longest dry streak in winter at downtown Sacramento this past hour," the National Weather Service tweeted at 3 a.m. Tuesday. "After 66 days of dry, we can now add 0.02 (inches) to the water year totals."
Fortunately, more rain fell during Tuesday morning. According to the weather service, as of 1 p.m., Downtown Sacramento had received 0.34 inches, making Tuesday the rainiest day of 2022 (so far).
Tuesday's showers broke a record winter dry spell that was three weeks longer than Sacramento's previous longest streak without measurable precipitation during our October-April rainy season. Before these almost-spring showers, downtown Sacramento last got measurable rain (0.05 inches) on Jan. 7. Normally during January and February, Sacramento gets more than 7 inches of rain.
March will add to its rain total later this week. The weather service forecasts more showers on Saturday, starting sometime after 11 p.m. Friday. But we'll need a lot more to get on track with something approaching normal; March historically averages 2.75 inches of rain in Sacramento.
What does this mean for your garden? You probably need to water. Irrigate young transplants and keep newly planted seeds evenly moist. Put down a fresh layer of mulch around tender (and thirsty) plants.
Before irrigating, check the soil for moisture. If you can't plunge a 6-inch screwdriver more than an inch or two into the ground, deep water now.
Or use a trowel to actually take a look at your soil. Dig down and roll some dirt in your hands. If it clumps into a ball, it has enough moisture. If it doesn't, irrigate.
Fast-growing and blooming plants will really need that moisture next week. After a showery and cool Saturday, temperatures are expected to climb rapidly. Sacramento's forecast for next Tuesday: 84 degrees.