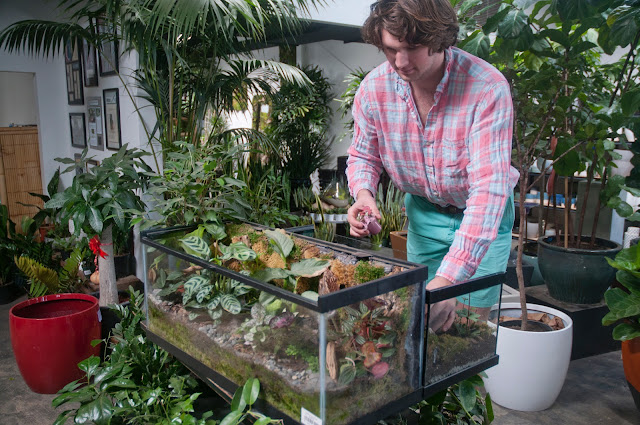 Exotic Plants shop manager Maxon Fackert adds more plants to a vivarium. (Photo courtesy N&R Publications)
What's the difference between a terrarium and a vivarium? Terrariums are designed to raise plants; vivariums focus on animals and their habitat – which happens to be filled with plants.
Pet reptiles and amphibians love these enclosed jungles – and so do their people. Here's your chance to make your own vivarium – and help your pet reptile or amphibian friends feel right at home.
Exotic Plants is hosting a "Build Your Own Vivarium" workshop at 5:30 p.m. Saturday, March 26.
This hands-on workshop will help you make an animal-friendly habitat with all the supplies you need. Participants may bring in their own tank or use a 10-gallon starter tank.
Maxon Fackert, Exotic Plants shop manager, will instruct this interesting workshop and offer his advice for success. Fackert keeps frogs in his own vivarium at home and also watches over the shop's pet albino boa in its vivarium.
Seating is limited, so it's best to register now. Prices will vary, depending on tank and plant needs. Besides the tank, workshop fee also includes materials, plants and instruction.
Exotic Plants is located at 1525 Fulton Avenue, Sacramento. To sign up for the workshop, call 916-922-4769.
The store's website: www.exoticplantsltd.com .