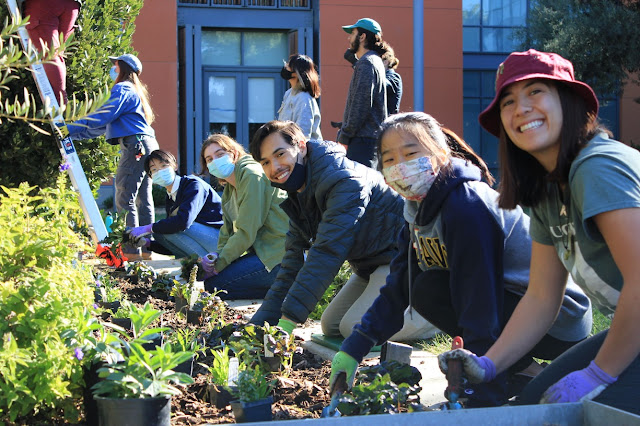 Join in Community Volunteer Day on Saturday at the UC Davis Good Life Garden. (Photo courtesy UC Davis Arboretum & Public Gardens)
What better way to celebrate spring than getting your hands dirty?
This Saturday, March 26, the UC Davis Arboretum is looking for helping hands to participate in its Community Volunteer Day. The project: Replanting the beds at the Good Life Garden in the courtyard of the Robert Mondavi Institute for Wine and Food Science,
"Join us for another volunteer day!" say the organizers. "Get outside, get your hands dirty and help beautify the Good Life Garden while getting tips on the best prep and planting methods for growing veggies."
As a sampler of California's bounty, the Good Life Garden features dozens of varieties of vegetables, fruit and herbs. In addition, bee-friendly flowers bring in beneficial insects. With its ever-changing edible landscape, the garden has become a popular venue for weddings and major campus events.
Volunteers will tackle the project from 10 a.m. to noon Saturday. Participation is free, but volunteers should register in advance. Space is limited.
To register: https://bit.ly/3DaNV3h
For more on the arboretum: https://arboretum.ucdavis.edu . The Mondavi Institute can be reached from the Old Davis Road exit off Interstate 80. Link to the campus map is here .