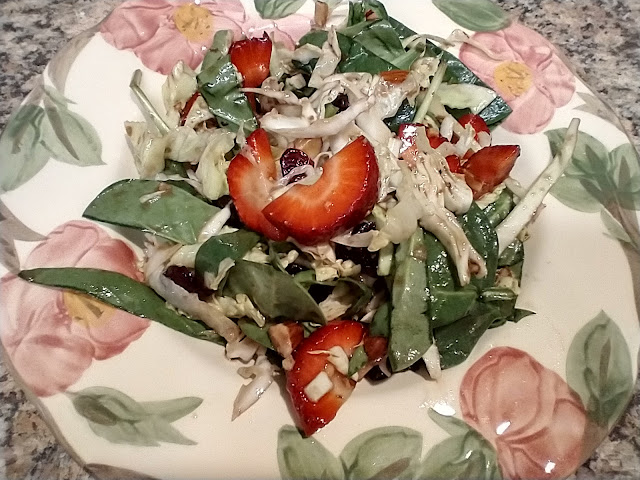 Strawberries brighten this slaw. (Photo: Debbie Arrington)
Early spring salads depend on something other than tomatoes to give them a burst of juicy flavor as contrast to crunchy greens.
Strawberries show off their savory side in this easy slaw with a touch of sweetness. Their bright color and tart taste work well with cabbage and spinach.
Although basic grape-based balsamic vinegar works in the vinaigrette, try fig or other fruit-based balsamic vinegar. It adds another note of sweet-tart flavor to accent the fresh strawberries.
Strawberry slaw with fig balsamic vinaigrette
Makes 2 servings
Ingredients:
8 strawberries, hulled and sliced
1 cup cabbage, thinly shredded
1 cup spinach, shredded or torn
¼ cup dried cranberries
¼ cup chopped almonds
For vinaigrette:
3 tablespoons extra virgin olive oil
1 tablespoon fig balsamic vinegar
1/2 teaspoon sugar
Salt and fresh ground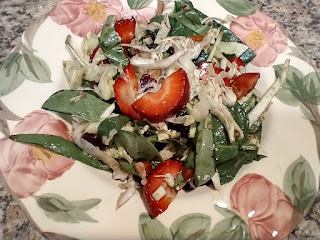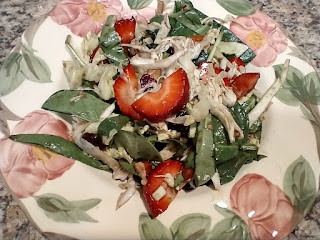 pepper to taste
Instructions:
In a large bowl, place sliced strawberries, cabbage, spinach, dried cranberries and almonds.
Prepare vinaigrette. In a small jar with a tight-fitting lid (such as a half-pint mason jar), combine olive oil, balsamic vinegar, sugar, salt and pepper. Cover and shake until blended.
Pour vinaigrette over strawberry-cabbage mix. Toss lightly.
Serve immediately.