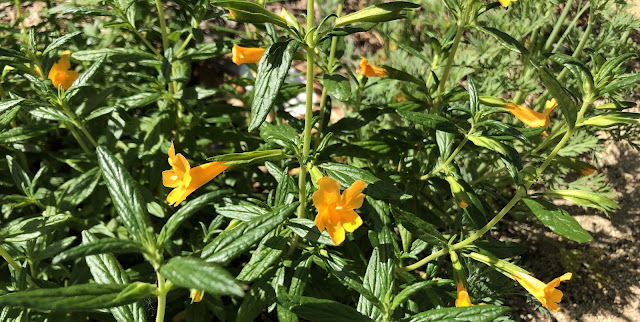 Sticky monkey flower is a popular perennial plant in the Sacramento region. Find
great perennials along with herbs, houseplants and vegetables at the Sacramento Perennial Plant Club's pair of two-day pop-up sales. (Photo: Kathy Morrison)
Got room for more plants? Circle these dates on your April calendar.
When it comes to propagation, some local gardeners have amazing green thumbs – especially in the Sacramento Perennial Plant Club.
Members of that club grew so many seedlings and propagated so many baby plants that the club will host two pop-up sales in April.
"Daisy (Mah) and other club members who enjoy propagating will have an array of vegetables, herbs, houseplants and perennials, of course," says SPPC's Linda Hax.
Many of these plants will be unusual varieties that have become members' favorites. In addition for a small fee, patrons can get tools sharpened and holes drilled in pots or other containers.
The first sale will be 9 a.m. to 1 p.m. Friday and Saturday, April 1 and 2, at 877 53rd St., Sacramento.
The second sale will be 9 a.m. to 1 p.m. April 15 and 16 at 4578 Parkridge Road, Sacramento.
Admission is free. Bring your own box or nursery tray, if possible, to help carry home your purchases.
Details: https://sacramentoperennialplantclub.org/