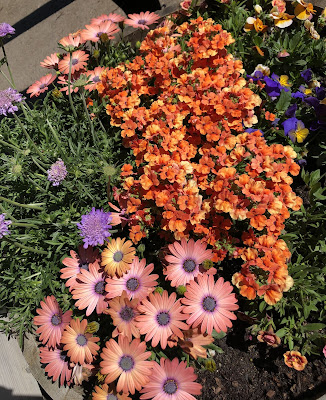 Container plants can add bright color
where you need it. Learn about container
gardening in person or online this Saturday.
(Photo: Kathy Morrison)
Container gardening can turn any outdoor (or indoor) space into garden space.
Learn how to successfully garden in pots during a free workshop offered both in person and via Zoom.
Hosted by the UCCE Master Gardeners of Placer County, "Container Gardening" will be held at 10:30 a.m. Saturday, April 2, at the Loomis Library, 6050 Library Drive, Loomis. Or check in on Zoom; pre-register here:
https://us02web.zoom.us/meeting/register
.
"Container gardening is a great solution if you don't have a suitable garden space," say the master gardeners. "This workshop will cover choosing the right container, plant selection tips, transplanting and more. Learn how to be successful growing ornamental plants, as well as fruit and vegetables."
The hand-outs for this workshop – including tips, getting started and trouble shooting – are already available online here:
https://pcmg.ucanr.org/?calitem=527826&g=123640
,
Among the excellent tips:
• Anything that can hold soil and has at least one drainage hole (two to three holes are better) can serve as a planter. Often "found" unconventional items make excellent pots.
• When using pots that have contained other plants, you may want to use a 10% bleach solution to disinfect your container and tools. This solution is active for 20 minutes; it's best not to store the solution.
• Large containers retain more moisture than small ones. This is especially true with hanging baskets.
• Grouping containers together is an attractive way to display potted plants.
• Use soil-less mix for containers. Commonly known as potting soil, there is no soil in this mix.
That's just a slice of the advice that will be presented Saturday.
Details and upcoming workshops:
https://pcmg.ucanr.org/
.