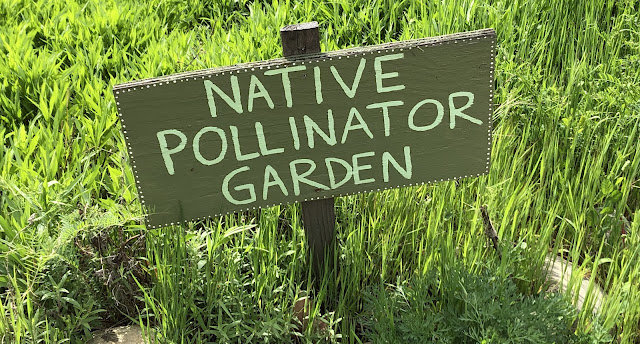 In addition to a plant sale, Soil Born Farms on Saturday will offer tours of the site, including the native pollinator garden. (Photo: Kathy Morrison)
No gardener in the Sacramento region is going to be far from a fundraising plant sale this weekend. So write your  shopping list and check out these sales:
-- Spring Plant Sale, Yolo County Master Gardeners, 9:30 a.m. to 1:30 p.m. Saturday, April 2. Woodland Community College, 2300 E. Gibson Road, Woodland. Plants will include heirloom tomatoes and perennials grown by the master gardeners, plus hybrid tomatoes, other vegetables, herbs and annuals grown by the WCC horticulture staff. Cash or check only. Masks are required at the college. The plant inventory is here . Details: https://ucanr.edu/sites/YCMG/files/365103.pdf Sale will be repeated April 9.
-- Woodland High Plant Sale, 9 a.m. to noon, Saturday, April 2, in the high school parking lot off Beamer Street. Cash or checks only.
-- Spring Organic Plant Sale & Free Gardening Clinic, 8 a.m. to 2 p.m., Saturday, April 2. Soil Born Farms. Rancho Cordova. The sale will include vegetable starts, edible perennials, medicinal and culinary herbs,  and flowers. The plant list is available here . Soil Born Farms also will offer a free gardening clinic with classes and tours throughout the morning. Details are here: https://soilborn.org/ . 2140 Chase Drive, Rancho Cordova.
-- Nature Day at The  HIVE, 11 a.m. to 5 p.m. Saturday, April 2.  Miridae Mobile Nursery, "the taco truck of nurseries," will be at the Woodland honey and bee center, 1221 Harter Ave., Woodland. Tours, a nature photography exhibit and a natural dye workshop are some of the other activities. Details: https://zspecialtyfood.com/event/nature-day/ Miridae specializes in native plants; the plant list is here .
Other sales we've already posted about this week:
-- Pop-Up Sale, Sacramento Perennial Plant Club.  The first of two sales will be 9 a.m. to 1 p.m. Friday and Saturday, April 1 and 2, at 877 53rd St., Sacramento. See the post.
-- Capital City African Violet Society Sale. 10 a.m. to 4 p.m. Saturday, April  2, Shepard Garden and Arts Center, 3330 McKinley blvd., Sacramento. Read the post .
-- Kathy Morrison