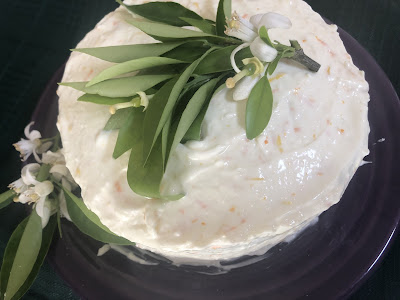 Orange blossoms and leaves make a fragrant
garnish for the orange cake. (Photos: Kathy Morrison)
With just two of us in the house, I don't bake a lot of cakes these days. But celebrations call for cake, and spring brings family birthdays, Easter and other holidays. Spring also brings everything bursting into bloom in the garden, including my navel orange tree. And I still have oranges from that tree, harvested and needing to be used.
This cake from Food52.com's Genius Recipes demanded to be made this week. No creaming of butter, no time-consuming blending of one egg at a time, wow. I cut the recipe in half, with one or two exceptions (noted). But instead of baking one 8-inch layer, I pulled out my 6-inch cake pans and baked two small layers, the better to emulate the original.
Author Yasmin Khan extolls Cyprus' many citrus crops -- hmm, sounds familiar! -- and says any citrus can be used in the cake. I followed the orange-with-lemon original ingredients but would love to make a blood orange/tangerine version at some point. Wouldn't a pink citrus cake be perfect for one of the celebratory days coming up?
Note: Both the butter in the cake and the cream cheese in the frosting blend better when very soft. But don't melt them in the microwave! Leave them out at room temperature long enough before baking. And choose a natural cream cheese if possible; the cream cheese I used was a bit gummy, making me regret that particular purchase. But it tasted delicious.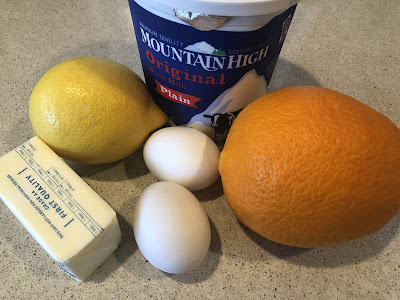 Homegrown citrus has the advantage of no wax
and (we hope) no pesticides.
Citrus Cake
Makes 4 servings; easily doubled
Ingredients:
For the cake:
1/2 cup (1 stick) unsalted butter, allowed to soften, plus more for the pan
1 scant cup unbleached all-purpose flour (scant = 1 cup with 3 teaspoons removed)
1/2 cup granulated sugar
2 extra-large eggs, lightly beaten
1-3/4 teaspoons baking powder
3/8 teaspoon salt
1/2 teaspoon vanilla
2 tablespoons whole-milk plain yogurt
1 to 1-1/2 tablespoons finely grated orange peel
1 tablespoon fresh orange juice
For the frosting:
1/2 cup confectioners' sugar
6 ounces full-fat (brick) cream cheese (natural, if possible)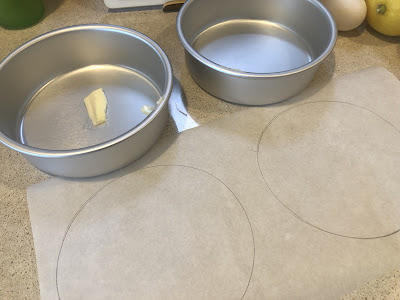 Trace the cake pan on the parchment to get a perfect
shape.
2 tablespoons whole-milk plain yogurt
1/2 tablespoon fresh orange juice
1 tablespoon fresh lemon juice
2 teaspoons or more lemon and/or orange zest, optional
For garnish:
Orange and lemon zest or strings of citrus peel
Washed and dried orange blossoms and leaves, optional
Instructions:
Preheat oven to 350 degrees.
Prepare the pan or pans: Butter an 8-inch cake pan or two 6-inch round cake pans, and then line with rounds of parchment paper.
Put all the cake ingredients into a large bowl. Beat until the flour is incorporated and the mixture is mostly smooth. (This is a more rustic cake, so don't worry about small lumps.)
Pour the batter into the pan or pans. (Divide the batter evenly between the pans if using two.) Bake for 20-25 minutes, until golden brown.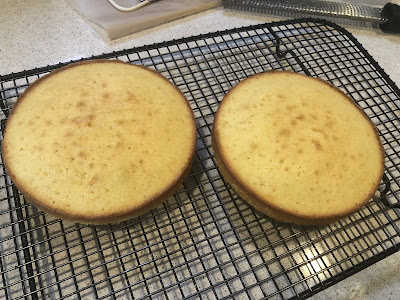 Allow the layers to cool before frosting.
Remove pans from the oven and let them cool on a rack for 5 minutes. Then remove the cake from the pans and allow to cool thoroughly.
While the cake is baking, make the frosting by beating all the ingredients together until smooth. This is a soft frosting, but I upped the confectioners' sugar a bit because the original seemed too soft. Pop the bowl into the refrigerator to firm the frosting up a bit while the cake is cooling.
I would wait to frost this cake until a short time before serving, but preparing the garnish ahead is a good idea.
To frost: Put one layer on the serving plate, and spoon a large mound of frosting on top. Place the second cake layer on top, pushing down lightly so the frosting just starts to spill over the edge. Mound the remaining frosting on top of the second layer, spreading it out and allowing some of it to also spill over the sides. Smooth all over, or just leave as is, as desired.
Add optional garnish and serve and celebrate!