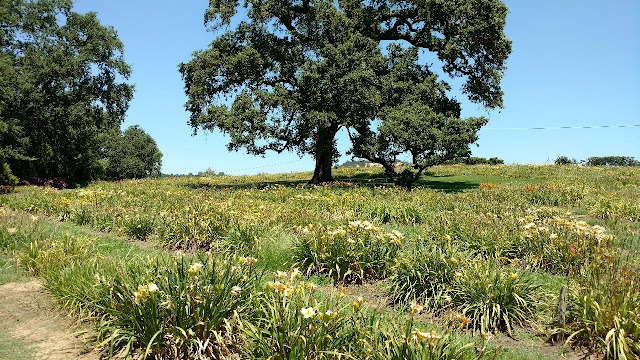 The daylilies are always at Amador Flower Farm, but Spring Fling activities this weekend and Easter events on April 17 will add a special air of celebration. Picnicking is welcome. (Photo: Debbie Arrington)
It's time to hop over to Amador wine country, catch some spring fever and maybe a rabbit, too.
On Saturday and Sunday, April 9 and 10, the famed Amador Flower Farm hosts its annual "Spring Fling."
"A celebration of the beginning of spring!" say the organizers. "The nursery is open and full of fresh plants for the season. Join us for seminars, demonstrations, free tram rides, a stroll through the gardens."
Hours are 9 a.m. to 4 p.m. Admission and parking are free, but leave your pets at home. They're not allowed at the flower farm.
Surrounded by vineyards, the flower farm is home to millions of daylilies in more than 1,200 varieties. Besides acres of flowers and centuries-old oaks, the farm includes a wonderful retail nursery plus a beautiful water-wise demonstration gardens. There's also room for picnicking.
Free tram rides are scheduled all day, weather permitting. "This event will take place rain or shine," say the organizers.
On Sunday, April 17, Amador Flower Farm welcomes back the Easter Bunny.
"Join the Easter Bunny for an egg hunt at Amador Flower Farm!" say the organizers. "She hides her eggs here every year and kids (toddler to 13 years old) have a great time hunting for them in the daylilies."
Come early, then join the hunt, which takes place at 1 p.m. sharp in the daylily growing grounds. Gates open at 9 a.m.
"Take your picture with the Easter Bunny and enjoy a picnic," say the hosts. "Don't forget your camera and don't be late!"
The egg hunt also will take place rain or shine. Admission and parking are free.
Amador Flower Farm is located at 22001 Shenandoah School Road, Plymouth.
Details and directions: https://www.amadorflowerfarm.com/