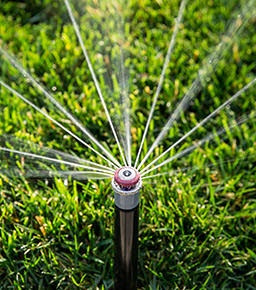 Give your sprinkler system a tune-up with help from

a free hands-on workshop. (Photo courtesy Regional

Water Authority)

h
Are your sprinklers ready for an upgrade?
Learn all about irrigation and how to get the most out of your sprinklers during "Sprinkler Spruce Up," a free event hosted by the Sacramento Suburban Water District.
This hands-on workshop will be held from 11:30 a.m. to 1 p.m. Friday, April 22, at the Garden on Eden, 4900 Eden Ct. in Carmichael.
Irrigation experts will show you how to get your sprinklers ready for the summer months ahead. No registration is necessary.
Now is an excellent time to get your irrigation in good working order, before the heat of summer really hits. Outdoor landscaping accounts for more than half of Sacramento's summer water use. With another season of drought restrictions looming, upgrading sprinkler heads can be a quick fix that adds up to big savings.
Replacing inefficient spray heads with new rotator nozzles gives the lawn much better irrigation coverage while saving an estimated 30% of water usage. The result: Greener grass while saving cash.
Questions? Contact Water Conservation Supervisor Greg Bundesen at 916-679-2890.
For more water-saving tips as well as rebates, visit BeWaterSmart.info .