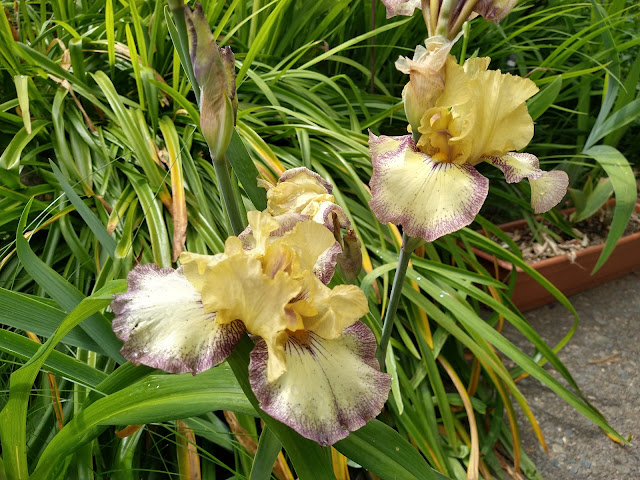 This beauty is a Tennessee Gentleman iris, purchased several years ago at the
Sacramento Iris Show. See many varieties at the show and sale this weekend.
(Photo: Debbie Arrington)
One of Sacramento's favorite spring flowers gets its turn in the spotlight this weekend when the Sacramento Iris Society hosts its annual show and sale.
Shepard Garden and Arts Center in McKinley Park will be overflowing with bearded irises and other species in their colorful glory. With the theme "National Parks," the iris show will be open to the public from 1 to 5 p.m. Saturday, April 23, and 10 a.m. to 3 p.m. Sunday, April 24.
This will be a judged show with many different varieties and kinds of irises vying for awards. It's a great opportunity to learn about the many different color combinations and how to better identify varieties.
Take some home, too! The club will offer potted irises for sale with plants ready to transplant now.
Bearded iris, the most common perennial iris, is a water-wise wonder that thrives in Sacramento. After showy spring blooms, bearded irises need little summer irrigation – just once a week or twice a month. The plant dies back in August before sprouting new growth in late fall or winter.
Originally hybridized in Germany, bearded irises (also known as flags) now include more than 60,000 named cultivars and come in every color from pure white to black with countless shades in between. The most common colors are blues and purples, closest to the iris family's native hues.
Admission and parking are free. Shepard Center is located at 3330 McKinley Blvd., Sacramento.
Details and directions: www.sgaac.org or https://sacramentoirissocietydotcom.wordpress.com/ .