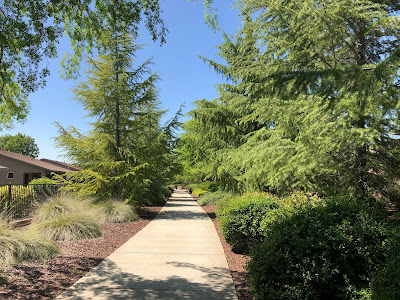 This shows one of the tree trails through Sun City
Lincoln Hills. (Photo courtesy Sun City Lincoln Hills)
See private gardens in Sun City Lincoln Hills
Get out and enjoy perfect spring weather during a real rarity – a midweek garden tour.
On Thursday, April 28, the Lincoln Hills Garden Group will host a home garden tour featuring private landscapes in its retirement community.
"Are you ready for some ideas to spruce up your yard, maybe make a few changes, or just enjoy a refreshing look at what others have done with their yards?" say the organizers. "We invite the community to attend this well-received event that the Garden Group sponsors each year through the generosity of homeowners who are willing to share their yards."
First stop of this tour is Orchard Creek Lodge, 965 Orchard Creek Lane, Lincoln, in Sun City Lincoln Hills.
"Drive through Orchard Creek Lodge entrance portico between 9:30 and 11 a.m. and pick up a packet with driving directions, addresses, and descriptions of each yard," say the organizers. "There is no need to park and get out as volunteers will be there to hand you a copy."
The tour packets are $5; please bring exact change if possible, the organizers add.
Nicknamed "Gardeners on the Rocks," the Lincoln Hills Garden Group welcomes visitors from throughout the greater Sacramento area to this popular tour. Sun City Lincoln Hills is known for its tree-studded community and views of the foothills.
More details and photos of past tours: http://lhgardengroup.org/home-garden-tour/ .