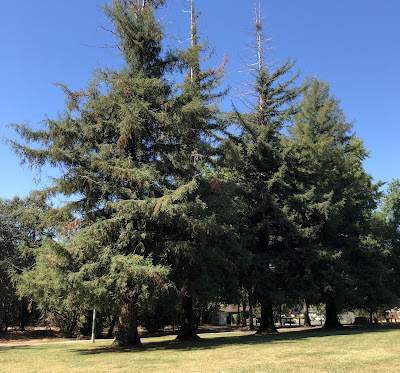 Trees planted in lawns, such as these at a local park,
can suffer when irrigation is reduced or cut off
entirely. Be aware of trees' watering needs so they
don't become drought casualties. (Photo: Kathy
Morrison)
Are your trees getting thirsty? In the coming weeks and months, it's likely they will – if they aren't already. That's why local experts are urging residents to take care of their trees now and during what will undoubtedly be a long, hot, dry summer.
"California is entering a third straight drought year. With spring at hand, it's time for all of us to start reducing outdoor landscape watering. It's the most effective way to conserve water in the Sacramento region," explains Amy Talbot, water efficiency program manager of the Regional Water Authority (RWA). "But we have an important message: Don't starve your trees."
Representing 20 water providers serving 2 million people in the Sacramento region, the RWA has teamed with the Sacramento Tree Foundation to encourage residents to focus on tree care. This new outreach program launched this week, just in time for National Arbor Day, April 29.
"Sacramento is proudly recognized as the 'City of Trees' for a reason," says Stephanie Robinson, Communications and Marketing Manager for the Sacramento Tree Foundation. "We have prioritized our urban tree canopy as a symbol of our regard for nature and our desire to foster a livable, beautiful community. We cannot jeopardize this investment, even during drought years."
During the last drought that ended in 2016, satellite imagery revealed a clear loss of tree canopy in the Sacramento region, says Robinson. Many trees – particularly coastal redwoods and birches – were weakened and eventually died when lawn watering was cut back. It will take decades to replace these trees.
In addition, lack of moisture leads to root loss, which can make a tree unstable. Big trees with severe root loss are more likely to topple over, causing property damage – or worse.
The RWA and SacTree offered these tips to make sure your trees are getting the water they need this spring and summer to stay strong:
1. Test soil moisture. Poke a moisture meter or long screwdriver 6 inches into the dirt beneath the tree canopy (where the limbs and foliage extends) to know when your trees need to be watered. If the screwdriver comes out dry or you can't push it into the ground, it's time to irrigate.
2. Focus on delivering a very slow, deep drink to trees, allowing water to seep 6 to 8 inches below the soil surface.
3. For mature trees more than 5 years old, give trees a deep soak using a soaker hose or drip irrigation at the outer edge of the tree's canopy – the farthest any branches reach. (That's also the farthest any feeder roots reach.) Stop if you see runoff, water running onto the pavement or gutter. Wait an hour for the water to soak into the soil and start again.
4. For young trees, water two to three times a week, five gallons at a time. Try the "bucket method" for a slow, deep watering: Drill a 1/8-inch hole on the side of a 5-gallon bucket, about an inch from the bottom. Place the bucket near the tree and fill with water. Let the bucket drain into the tree's root zone.
5. Finish with a 6-inch-thick layer of wood-chip mulch around the base of each tree (keeping the mulch 4 inches away from the trunk), as far out as edge of the tree canopy. This helps reduce the temperature around the tree and holds in soil moisture.
Additional tree watering tips and resources – including several videos – are available at BeWaterSmart.info/trees and sactree.com/water .