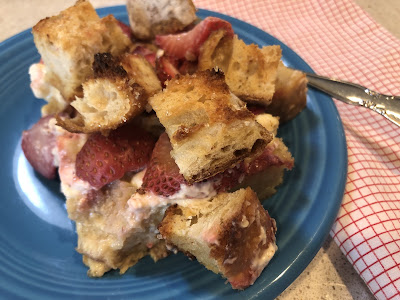 Strawberries and cream cheese star in a casserole
prepared ahead of time. (Photos: Kathy Morrison)
Do we need another way to celebrate spring and enjoy strawberries? I definitely think so, and was thrilled to find this recipe at Sally's Baking Addiction for an easy overnight brunch casserole. Certainly easier than regular French toast, it's perfect for Mother's Day (hint, hint) or any brunch occasion this season.
My version below makes enough for 4 to 6 people, depending on what else is served, but as the original shows it's easily doubled and baked in a 9-by-11-inch baking dish. I used a little over half of an artisan sourdough loaf and baked it in 9-inch pan, but the quantities are easily adjusted for whatever you have. This also can be made with blueberries, blackberries or (just coming in to season) fresh cherries.
The cream cheese in the recipe makes it special, and the resulting sweet creaminess eliminates the need to pour syrup over the whole thing. (OK, if you like maple syrup, go for it.)
Strawberries and cream French toast casserole
Serve 4-6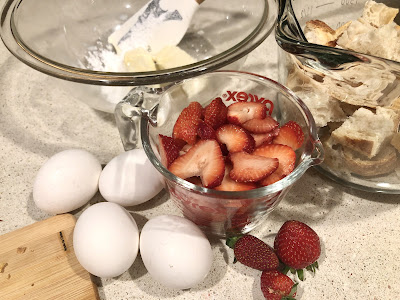 Once the bread is cubed, this all goes together quickly.
Ingredients:
6 to 8 cups of day-old bread, such as sourdough, french or challah, cut into 1-inch cubes
4 ounces full-fat block cream cheese, softened
1 tablespoon powdered sugar
1 teaspoon vanilla extract, divided
1 cup of half and half, whole milk or nondairy milk
4 eggs
1/4 teaspoon ground cinnamon
1/3 cup packed brown sugar
1 cup hulled fresh strawberries, sliced or chopped
Optional pre-bake toppings: Demerara sugar or cinnamon sugar
Optional accompaniments: Powdered sugar, maple syrup or more chopped berries
Instructions:
Grease an 8-inch or 9-inch baking dish with cooking spray or butter. Put half to two-thirds of the bread cubes evenly across the bottom of the pan. Set aside.
Whisk or stir together the cream cheese, powdered sugar and 1/2 teaspoon vanilla until thoroughly mixed and light.
Dab spoonfuls of the cream cheese across the bread cubes. Spread the strawberries over the bread, saving some out for garnish if desired. Add the rest of the bread cubes.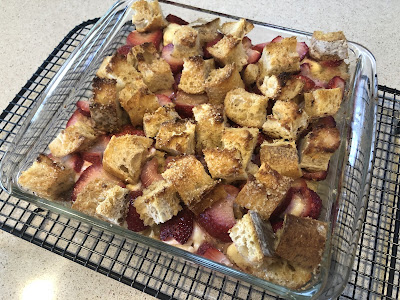 Baked and ready to serve, with syrup or not.
Whisk together the milk, eggs, cinnamon, brown sugar and remaining 1/2 teaspoon of vanilla. Pour this mixture over the bread. Gently press the top cubes down into the liquid. Cover pan tightly with plastic wrap or foil and refrigerate at least 3 hours or overnight.
When ready to bake, heat oven to 350 degrees. Remove the cover on the pan. Sprinkle Demerara sugar or cinnamon sugar over the top, if using, and bake 30-35 minutes until golden brown.
Let cool at least 5 minutes and serve, topped with powdered sugar, if desired. Pass syrup and/or additional berries as desired.