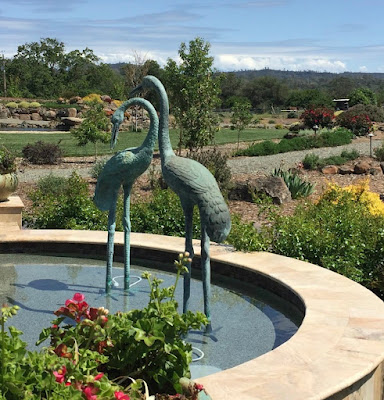 This beautiful garden is on the Placer County Master
Gardeners' Mother's Day Tour. (Photo courtesy
Placer County master gardeners)
Here's a special treat for Mother's Day: The Placer County Master Gardeners' Mother's Day Garden Tour.
Now in its 35th year, this annual tour celebrates beautiful Placer County gardens filled with inspiration. Hosted by the UC Cooperative Extension Master Gardeners of Placer County, this tour will be held from 10 a.m to 4 p.m. Sunday, May 8 – Mother's Day – making it a perfect family outing.
Tickets are $20 (cash or check only). Children age 12 or younger admitted free.
What will you see? Each stop has an evocative nickname: The Artist's Garden, the Water Wheel Garden, the Inspired Garden, the Tranquility Garden, the Shared Garden and the Water-Wise Garden.
Here's the master gardeners' description of the Artist's Garden:
"If you're looking for ideas to add fun and uniqueness to your home oasis, this imaginative owner has not only extensively filled her shade-dappled garden with stunning flowers, luscious plants and beautiful trees, but has also been busy creating and tucking oodles of her creations throughout this delightful and eclectic setting. Discover numerous heart-shaped rocks and other special finds that adorn this space."
Every garden features some extraordinary features. The Water-Wise Garden, for example, not only showcases natives and drought-tolerant plants in a creekside setting, but also has its own pond and custom chicken coop (complete with friendly hens).
Tickets are available now and through tour day at Green Acres Nursery & Supply locations in Auburn, Rocklin and Roseville. All six gardens are located in mid-Placer County, within easy driving distance. Master gardeners will be stationed at each stop to answer questions.
More details: https://pcmg.ucanr.org/ .