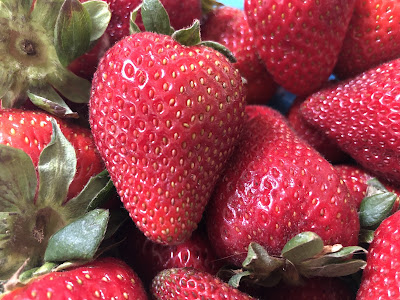 Plenty of fresh strawberries will be sold, and consumed,
this weekend at BerryFest. (Photo: Kathy Morrison)


Remember Roseville's Strawberry Festival? In the time before Covid-19, it was a huge celebration -- the size of a county fair -- coincidentally held at the Placer County Fairgrounds on Mother's Day weekend. Attendance routinely was about 25,000.
The sweet event comes back this weekend for the first time in three years, but in a smaller way: BerryFest 2022 will be a free street fair/farmers market, with plenty of vendors, some traditional events and, of course, lots and lots of strawberries.
Downtown Roseville -- specifically the 300 block of Vernon Street -- will be the center of the action, with a beer garden, the Strawberry Stage, a dozen food booths, more than 40 craft booths and about two dozen farmers' stands. Hours are 10 a.m. to 4 p.m. both Saturday and Sunday, May 7-8. Parking is free on Vernon Street, Atlantic Street and in the nearby parking garage.
The Little Miss Strawberry Pageant is among the returning events, at 11 a.m. Saturday. The strawberry shortcake eating contest, another classic, also will be held. Strolling entertainment and community performances are among other highlights.
Organizers promise to bring back the full-size event in 2023.
-- Kathy Morrison