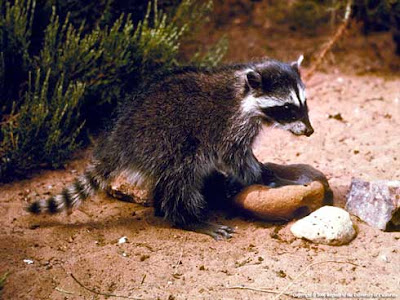 A vertebrate pest, such as this young raccoon,
can be a gardener's nemesis. (Photo by L. Fitzhugh,
courtesy UC Integrated Pest Management)
Ever wonder what's eating your plants? How can you tell rat damage from raccoon foraging? And who's digging all those holes?
Find out during a free workshop hosted by the UC Cooperative Extension Master Gardeners of Placer County.
Set for 10:30 a.m. Saturday, May 14, "Guess Who's Coming to Dinner – An Integrated Strategy for the Management of Vertebrate Pests" will tackle the pesky problem of identifying hungry and destructive critters.
The one-hour program will be offered via Zoom as well as in person at Loomis Library, 6050 Library Drive, Loomis.
"You will learn various methods to protect your garden from vertebrate pest damage," say the organizers. "We will review the effectiveness of different methods and teach you how to minimize harm to the environment, other critters and your family. Some of the pests we will cover include squirrels, gophers, moles, voles, rabbits, raccoons and skunks."
Learn effective ways to outsmart voracious varmints and save your garden – without the use of poisons or harmful chemicals.
No advance registration is necessary, although pre-registration for the Zoom presentation is encouraged. Find full details and Zoom links at: https://pcmg.ucanr.org/?calitem=527828&g=123640 .