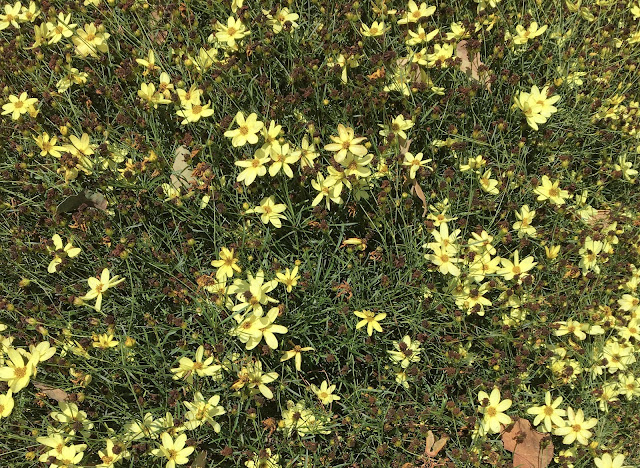 See what's blooming at the Fair Oaks Horticulture Center this Saturday morning
or on the afternoon of Wednesday, May 18. (Photo: Kathy Morrison)
Weather swings notwithstanding, May is gorgeous at the Fair Oaks Horticulture Center. Over the next seven days, the Sacramento County master gardeners offer two opportunities to view the demonstration garden at its spring best.
This Saturday, May 14, the Open Garden will be at the usual time: 9 a.m. to noon. Then on Wednesday, May 18, for the first time FOHC will be open from 4 p.m. to 7 p.m., for visitors coming home from work or school, or folks interested in a pleasant stroll before dinner.  At both events, all areas of the one-acre Horticulture Center will be staffed, with master gardeners ready to answer all types of gardening questions.
Expect to see plenty of pollinators in the Water Efficient Landscape area.  Master gardeners there are creating a model wildlife habitat garden for a home landscape with plantings, bee and bird houses. In the Orchard, crop thinning will be taking place. Ask about fighting pests such as codling moth!
The Vegetable Garden will have the burgeoning summer crops on view. The Compost Area team will offer tips for success, as well as answer questions on California's new composting law. (That goes into effect in July.) The Berry Area, Herb Garden and Vineyard also will be busy -- it's that time of year!
Water use is of course a big topic for gardeners. Throughout the Horticulture Center, visitors will see ways to use water more wisely with mulch, irrigation techniques and water-efficient landscaping.
The Fair Oaks Horticulture Center is at 11549 Fair Oaks Blvd., Fair Oaks, south of Fair Oaks Park and Madison Avenue.
For more information or directions to the Open Garden days, go to https://sacmg.ucanr.edu/ .
-- Kathy Morrison