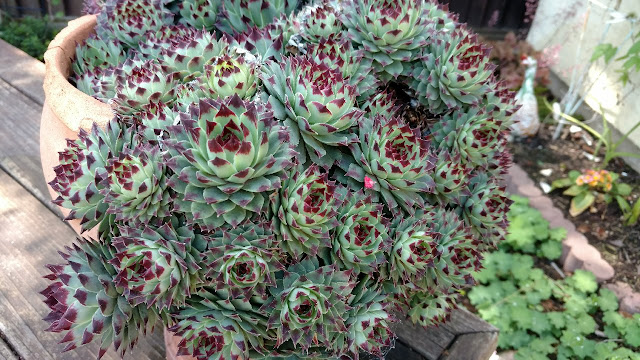 Succulents are water-wise plants that do well in containers. See many varieties
of cactus and succulents at the Carmichael show this weekend. (Photo: Debbie
Arrington)
Got cactus? Summer puts cactus and succulents in the spotlight; these drought-tolerant plants can take the heat as well as cope with water restrictions.
See beautiful cactus and succulents – and take some home, too – during the Carmichael Cactus and Succulent Society's 44th annual show and sale this weekend, May 21 and 22, at the Carmichael Park Community Clubhouse.
"(The show is) a chance for club members to display their best plants!" say the organizers. "We have plants for sale by professional growers and by club members, hand-made pottery, books, drawings and refreshments."
Find an exceptional selection of hard-to-find aloes, echeverias, aeoniums and many kinds of cactus. In addition, get the advice you need to help these water-wise plants flourish.
No room for more plants? Cacti and succulents grow well in container gardens as well as in the ground.
Cash, check or credit cards will be accepted. Show hours are 9 a.m. to 4 p.m. Saturday and 10 a.m. to 3 p.m. Sunday. Admission and parking are free.
Carmichael Park Community Clubhouse is located at 5750 Grant Ave., Carmichael.
Details: http://ccandss.com .