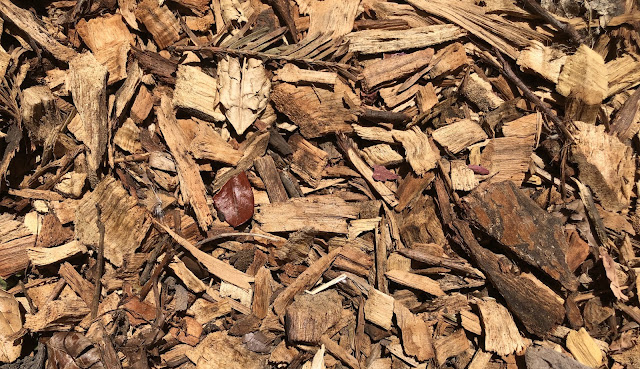 Mulch prevents evaporation of soil moisture and helps keep weeds under control.
(Photo: Kathy Morrison)
Grab a shovel and a container or tarp, and prepare to haul away free mulch Saturday morning during "Mulch Mayhem,"  hosted by water providers in Sacramento County.
Starting at 8 a.m. Saturday, and until noon or until the mulch is gone, customers of three area water providers can collect up to 1 yard of mulch, about equivalent to the amount that would fit in the back of a pickup truck. (Trailers, back of your SUV, buckets in the truck -- whatever you have, be ready to haul it away.)
The providers and locations for mulch pickup are:
-- Carmichael: Carmichael Water District, 7837 Fair Oaks Blvd., Carmichael. Info: (916) 483-2452 or carmichaelwd.org
-- Sacramento: Sacramento Suburban Water District Facility, 917 Enterprise Drive, Sacramento. Info: (916) 972-7171 or sswd.org
-- Sacramento: City of Sacramento, South Area Corporation Yard Parking Lot, 5730 24th St., Sacramento
Info: (916) 808-5605 or SacWaterWise.com
The mulch is for personal use only and cannot be sold or used for commercial sites.
Why are water districts giving away mulch? Easy answer: Mulching the garden prevents moisture loss, allowing the gardener to use less water to keep everything alive.
For more water-saving tips, visit BeWaterSmart.info
-- Kathy Morrison
----------------------------------------
Bonus post: What did you see in your garden today that you've never seen before?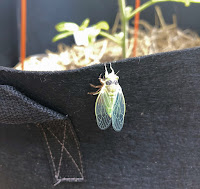 Gardeners love to spend time in the garden, especially because it can be full of surprises. We want to share what you're seeing!
Example: The insect at left was my morning garden surprise, a cicada that had recently emerged from its old exoskeleton (which is underneath it, attached to a grow bag in my backyard). The cicada seemed to be adjusting to its new form, holding still while I snapped photos. It was gone a few hours later.

Got a garden surprise to share? It can be a plant, leaf, flower, insect or something else that made you say, "Wow, look at that!" Send your name, city, a brief (2 or 3 sentences) description and a clear digital photograph to sacdigsgardening@gmail.com with Garden Surprise in the subject line. We'll publish them as time allows; anonymous submissions will not be published.